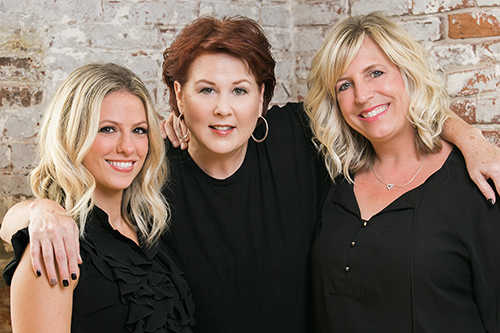 Owners
Michelle and Jane started Hair Gallery at the Mill in 2008. They started with themselves and one team member (Ashley) with the intent of creating a small happy work environment that our guests would love to come to. We only had five stations to start. As our team grew our knowledge of running a business of this size became overwhelming, that we in listed help from Summit Salon Business Group. With the principals they taught us along with our vision, we have grown to fifteen stations and now a spa room, with a total of 35 wonderful members of our team. Part of the principals that we were taught were to create opportunities and ongoing goals for our staff. So in August of 2017 we created Share Holding opportunities and we added one new owner to the partnership. Karah.
Karah started off as an Associate in our Associate Program in 2011. In 6 very short years, this amazing talent worked hard climbing up our Level system to become a Level 4 stylist. She didn't stop there. She then went on to become a Mentor. Passionate about "Giving Back". She began mentoring and sharing how it's done with younger professionals who are beginning their journey at HG. In 2015 She joined our Leadership Team. Her 4 yr. Business Degree came in handy when she took over Inventory Management. Being behind the scenes of HG, brought to light another passion, "Business Ownership". She MORE THAN proved to us that she has what it takes to join us as an Owner, a true Leader in our Salon Company. Michelle and Jane couldn't be prouder of Karah and this new opportunity for the rest of the HG team members.
We believe in growing successful career minded stylist who enjoy participating in the health and growth of our business so HG can live on, and can be passed on to the new generation. That is our dream.....that is our goal. We couldn't feel more blessed!